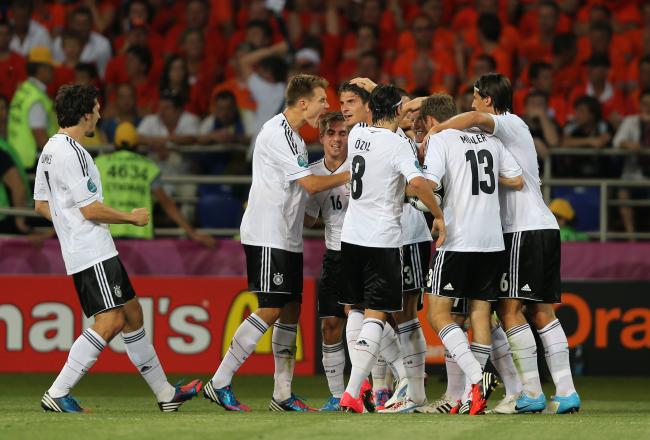 Ian Walton/Getty Images
The group stage already provided some thrills in Euro 2012, with some favorites getting knocked out early and some underdogs rising to the quarterfinals.
The Netherlands, despite being ranked fourth in the world, scored a grand total of zero points in the group stage, losing all three of its matches.
Meanwhile, the Czech Republic rebounded tremendously after an embarrassing 4-1 defeat to Russia to start the tournament. The Czechs went on to beat Greece and Poland to advance.
Here's a look at who I see advancing to the semifinals after the next stage.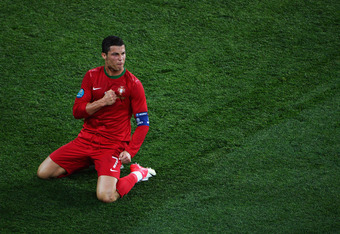 Lars Baron/Getty Images
Portugal
Portugal certainly hasn't been perfect in Euro 2012, edging the disappointing Netherlands on Sunday, but Cristiano Ronaldo's emergence against the Dutch may be a sign of things to come.
When you have one of the best players in the world, combined with fellow striker Nani and defender Pepe, you have a very talented team, which is why Portugal has at least advanced to the quarterfinals in the past five Euro championships.
The Czech Republic, on the other hand, has been a complete surprise after an uninspired effort against Russia to start off the tournament. Petr Jiracek and Vaclav Pilar, the Czech Republic's top two players, have scored two goals apiece and appear to be in rhythm.
In the end, I see Portugal pulling off the victory. I think the side is just realizing its potential and will break through the Czechs defense.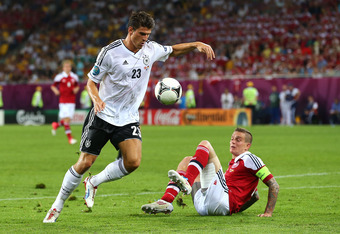 Martin Rose/Getty Images
Germany
Before Saturday's match against Russia, Greece didn't look particularly spectacular. It's mainly been the Greeks defense that has allowed them to squeak through the group stage. The side gave up three goals in three total matches, including a shutout against Russia.
But Greece's offense is what worries me. There isn't a player on the side who will truly scare Germany's defense, in my opinion. No Greek player has more than one goal this tournament.
Germany, on the other hand, has looked like one of the better overall teams in the entire tournament. The defense has been outstanding, allowing two goals in three matches thus far, and the offense can back it up, led by the superb Mario Gomez (three goals in Euro 2012) and midfielder Bastian Schweinsteiger (two assists).
Germany outclasses Greece in the end.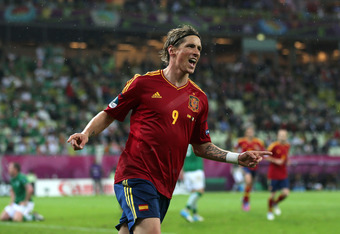 Alex Grimm/Getty Images
Spain
Spain has been up and down this tournament, but I believe in coach Vicente del Bosque. I also believe Del Bosque will adapt his strategy again and use Fernando Torres as a spark off the bench, as he should. The subpar victory over Croatia on Monday included Torres playing 61 minutes of uninspired football, and Spain only scored after Torres was sent to the bench.
Spain obviously has the talent to go far in the tournament, complete with Andres Iniesta, Xavi, Cesc Fabregas and David Silva.
France appeared to take a step back against Sweden on Tuesday, curiously losing, 2-0, after a tie against England and a 2-0 victory over Ukraine. France certainly has the talent to make this a competitive match, but I don't like what I saw from the French on Tuesday, and Spain is not a team you want to face when you are on the downslope.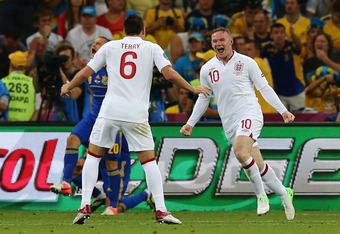 Martin Rose/Getty Images
England
It wasn't exactly a shocker that England won Group D, and did so with seven points. This isn't the same team as in 2004, but Wayne Rooney's return and ensuing goal on Tuesday against Ukraine was a welcome sight.
You also have players such as Steven Gerrard (three assists), Theo Walcott (one assist, one goal), John Terry, Ashley Young, Ashley Cole and Danny Welbeck.
Will England advance?
Submit Vote vote to see results
Italy, on the other hand, hasn't been itself. The Italians emerged from Group C with a ho-hum five points, and three of those points came against the worst team in the tournament, Ireland. Italy tied both Spain and Croatia to advance. There's still talent here obviously, with Andrea Pirlo and Daniele De Rossi, but England is playing better as a team and has the momentum headed into their clash on Sunday.