Khatron Ke Khiladi 5: Meet the contestants
The new season of 'Khatron Ke Khiladi' is about to hit the TV screens and the action-adventure show will see real life couple Gauahar Khan and Kushal Tandon be a part of it.


After Akshay Kumar and Priyanka Chopra, director Rohit Shetty has stepped into the shoes of the host for the new season of 'Khatron Ke Khiladi'.


This season 'Khatron Ke Khiladi' will follow the theme of boys vs girls. And, actress Mugdha Godse will also participate in 'Khatron Ke Khiladi 5'.


Former VJ and actor Ranvir Shorey will yet again return to the small screen with 'Khatron Ke Khiladi 5'. He was seen in 'Bajatey Raho'.


Television actress Pooja Gaur, who was seen in 'Mann Kee Awaaz Pratigya', will also be a part of 'Khatron Ke Khiladi 5'.


He is known to ***** heroes in films. But will Nikitin Dheer be able to survive in 'Khatron Ke Khiladi 5' is yet to be seen.


Dayanand Shetty, popularly known as Daya of the small screen, has often been seen breaking doors in popular TV show 'CID'. And, he will now show his strength in 'Khatron Ke Khiladi 5'.


Rochelle Maria Rao will add glamour to the new season of 'Khatron Ke Khiladi'. She is an anchor and model.


Rajniesh Duggall, who was last seen opposite Karisma Kapoor in 'Dangerous Ishq', will also participate in 'Khatron Ke Khiladi 5'.


Choreographer and actor Salman Yusuff Khan will also set to give tough competition to girls in the new season of 'Khatron Ke Khiladi'.


All the participants of 'Khatron Ke Khiladi' pose with the host Rohit Shetty.


The show will also see the entry of a stunt woman Geeta Tandon in the new season.


"My key focus through this show is about being a stunt architect, making contestants push their boundaries and overcome their fears," says Rohit Shetty. (PTI)


The new season will see 13 contestants competing with each other and the show will be shot in South Africa.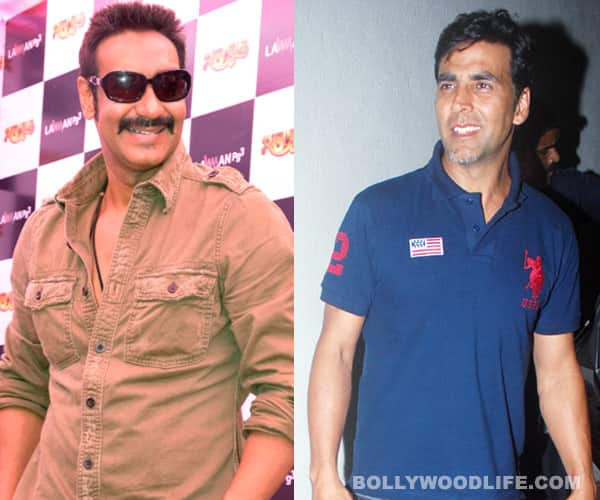 The Bol Bachchan actor has been reportedly signed on for the reality show
After hosting three seasons of
Khatron Ke Khiladi
(Priyanka Chopra hosted one, remember?), Akshay Kumar will step back from season 5. Ajay Devgn will reportedly host the adventure reality show in his stead. The producers had approached John Abraham too, but since he has no dates to spare, they finalised on Ajay. The
Bol Bachchan
actor has returned to his action image with
Singham
and he suits the theme of the show too. Ajay is known for doing his own stunts ever since his
Phool Aur Kaante
days. It'll be the perfect way for the Bollywood actor to enter the world of television. Though Ajay has appeared in a few TV shows, and even been a mentor for a couple of episodes of
Emotional Atyachaar
, this will be his first full length stint on television. We are eager to see how well he handles the demands of reality TV.
It's a huge win for Colors too, the channel that airs
KKK
. Salman Khan, Akshay Kumar and Madhuri Dixit Nene are already a part of Colors, and Ajay's coming on board will strengthen its market value, which is already augmented by the new deal with Eros, by which new and forthcoming releases will be screened exclusively on Colors in India.
For those who came in late, Akshay's exit from
KKK
has nothing to do with Ajay. The Khiladi refused to be a part of the adventure reality show because his wife is due to deliver their second child in a few months from now – which is when the show's producers want to shoot season 5. Understandably, Akshay wants to be with Twinkle during that time. We wish both Akshay and Ajay the very best.