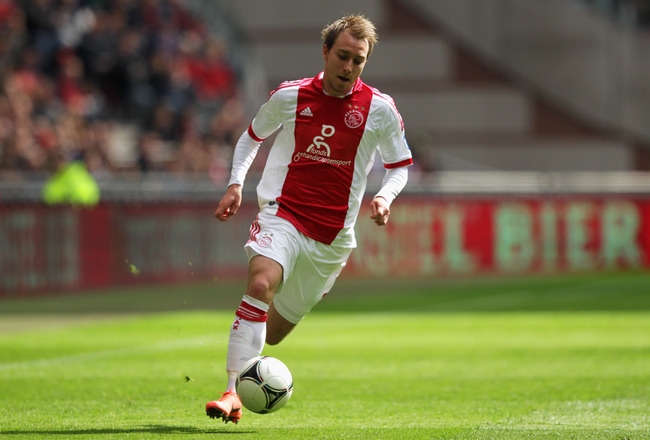 Dean Mouhtaropoulos/Getty Images
The first day of the 2012 Euro Cup is in the books. Now, an action-packed second day is upon us.
Euro's second batch of matchups features Group B teams. Group B is considered the tournament's most highly-contested group because of the star-studded German squad, and the dangerous weapons possessed by Denmark, the Netherlands and Portugal.
In Group B's first stanza, the Netherlands will square off against Denmark. The Netherlands are the favorites, but Christian Eriksen and Denmark should not be overlooked.
The second matchup of the day pits Germany against Portugal. This should be a very good game. Germany boasts several world-class players, and Portugal has the world's No. 2 overall player Cristiano Ronaldo.
With each matchup comes analysis, and with each round of analysis comes predictions.
Now, I'll make some bold observations of my own.
Miroslav Klose Will Start for Germans
Klose has the international reputation, but Mario Gomez has the upside and recent success.
Gomez has 26 goals in 33 games for Bayern Munich this season. Klose has 63 goals in 116 career international appearances.
Who should Joachim Low start at striker?
Each player can make a legitimate claim to be Germany's starting striker, but Klose will be the first man on the field.
Klose's international experience and deceptive creativity in the offensive end will give him the edge. He has lost a step in the past few years, but he understands how to get himself into scoring position.
Putting him in front of Bastian Schweinsteiger, Mesut Ozil and Lukas Podolski would be a smart choice by German coach Joachim Low.
The German team is in a can't-lose situation with their deep attack, but Klose gives them the perfect blend of international know-how and skill.
Christian Eriksen Will Catch Everyone's Attention
Eriksen is the best midfielder no one is talking about. He only scored seven goals for Dutch club Ajax this year, but he is a budding star on the international scene.
Denmark's midfielder will serve balls to striker Nicklas Bendtner on a regular basis. It will come in a losing effort, but Eriksen's exceptional vision will be on full display against the Netherlands' defense.
Eriksen is not physically imposing, but his age and outstanding touches suggest a brilliant career lies ahead. He was named 2012 Dutch Talent of the Year at the ripe age of 19 for a reason.
Beating the Netherlands is not in the cards for Denmark's side, but Eriksen will provide a handful of dazzling moments. These glimpses at his superb talent will leave Denmark fans optimistic about the future of their club.
Robin Van Persie Will Not Score
Van Persie will be the best player on the field when the Netherlands clashes with Denmark today, but he will not produce as such.
He has scored 28 goals in 65 career international appearances, and he racked up 30 goals as Arsenal's main attacker this season. He is arguably the world's most dangerous attacker.
Entering Euro 2012, Van Persie's future is in question. He could stay with the Gunners, or he could jump ship in favor of another high paying contract.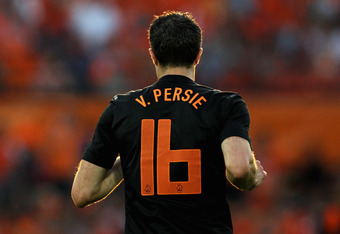 Dean Mouhtaropoulos/Getty Images
He is the Netherlands' best striker, and their best overall player. But that doesn't mean his position comes with unquestionable certainty. Klaas-Jan Huntelaar's 12 goals in the qualifying rounds could earn him playing time if Van Persie appears distracted.
I think Van Persie will play with other things on his mind. His preoccupied mind will not allow him to focus on the task at hand, and it will impact his production in the Netherlands' opening match.
He will not lose his starting spot, but Van Persie will struggle to get free against Denmark's underrated side.