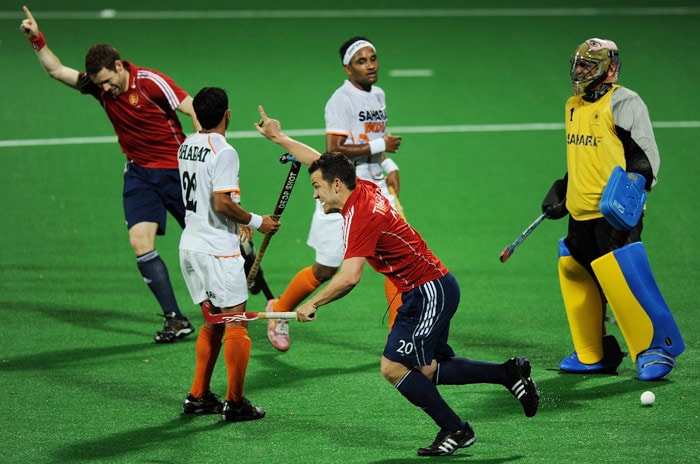 English hockey player James Tindall celebrates scoring a goal against India during their World Cup 2010 match at the Major Dhyan Chand Stadium in New Delhi. (AFP Photo)
NEW DELHI: Late fight by India failed to avoid a hat-trick of lost in the Hockey World Cup as European champions England beat the hosts 3-2 in a crucial Group B match at Major Dhyan Chand Stadium on Saturday.
Gurwinder Singh Chandi and skipper Rajpal Singh scored in the 54th and 58th minute respectively to cut down the lead to 2-3 for India after the European champions extended their lead over India to 3-0 within 11 minutes after halftime. England led the hosts 1-0 at halftime.
Match got little out of control in the end, as India lost Gurbaj Singh and Sardar Singh with yellow cards in the 68th and 66th minute respectively, which left the hosts with just nine players.
Five minutes after Ashley Jackson scored the second goal through their first penalty corner of the match in, Nick Catlin tapped in another goal for his team.
James Tindall scored a brilliant field goal in the 16th minute of play to give England the lead against the hosts.
India got two penalty corners in the first half but eventually failed to convert them into goal.
After two bruising matches against Spain and Australia, India have to stand up and fight again against England to keep semi-finals hope alive.
A win over Pakistan raised the expectations of the fans, creating a buzz around the Blue Sticks. In a space of three days, everything has changed.
This a different league altogether and the Indians' lack of experience showed against Australia and Spain. Let's also not forget that India had finished 11th in Monchengladbach World Cup four years ago. At least they are in with a chance to improve upon that.
India coach Jose Brasa said so much on Thursday night. "We can still fight for the fifth position," he said.
England are on a hot streak, having won three matches in a row. They have improved a lot in the past two years and are the reigning European champions.
They play a very physical game - they run hard, are lethal in counter-attacks and are solid in defence.
Australia got a taste of it on the opening day and then Pakistan suffered. Coach Jason Lee has surely done a great job with this bunch.