Full Details Shivani Durga - Contestant/Participant of 2017 Bigg Boss 11


Shivani Durga
Video plays, voiceover says one more baba in house. Shivani says nobody wants to show positive side of magic, babas want to keep people scared. She says I am a researcher, todays generation wants scientific meanings, thats why I took three degrees, BB is a big platform, people have vision about baba after Swami Om, I promise to clean that, I will change that.Salman welcomes Shivani on stage. Salman greets her, she gives him a pious leaf. He says you must have seen my experience with a bab last year, I tried to make him understand but he didnt listen and still getting beaten up, it hurts. I liked your message for which you are here. Shivani says Baba Om misused a platform. Salman asks if he is a baba? Shivani says she cant be a baba, there is a limit which he didnt follow, there is harassment because of people like him who doesnt have knowledge. Salman says I hope you bring positivity. Salman says colors bring different people, he makes Shivani stand in witness box and asks why she thinks we should trust saadu? Shivani says the popular ones are not real saadu, I will be able to send message to audience now. Salman says Om was alone, will you be alone too? Shivani says if my motives are clear and if I am able to explain then I will be accepted. Salman says you dont seem to have Om's streak so I think you will be accepted. Neighbors ring bell. Mehjabi asks if she can tell something about her, you are saying many things can happen with magic. Salman says she would have sit for mantras, is she fit to go inside? Luv says we should make her stand in shower, Mehjabi says she has many hair, Sabyasachi says there is time for that, it will be long battle. Mehjabi says she is not negative. Sabyasachi says she is fit. Salman sends Shivani in house.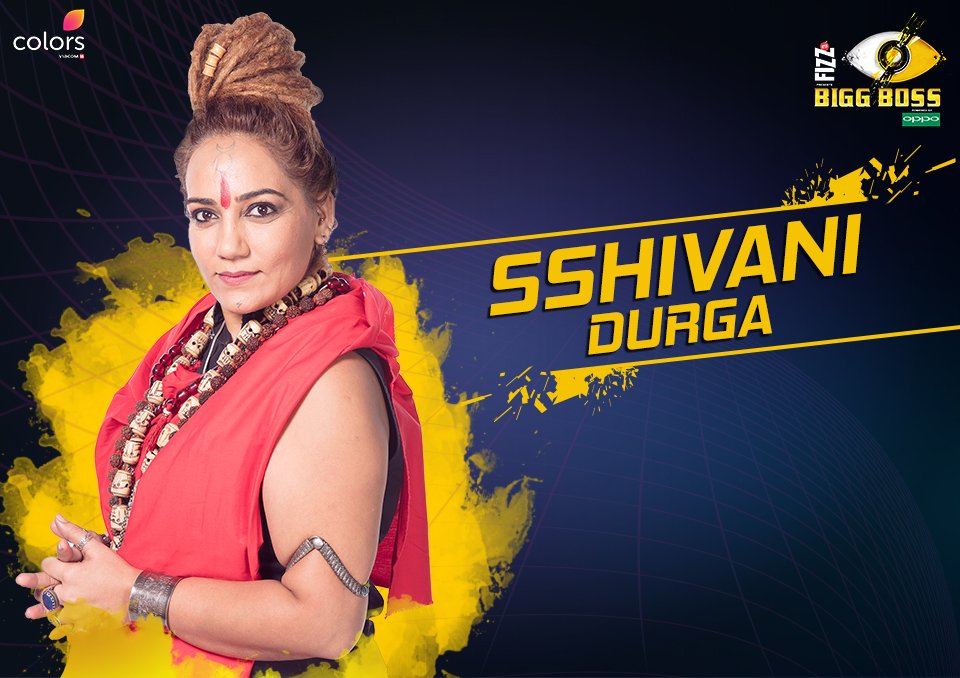 Salman says lets see if Shivani will change in house or not. Salman says now I will introduce two more contestants. One is VJ and other is Splitsville famous contestant.
The self-proclaimed god-woman hails from Noida and apparently is a double PHD holder from Chicago University. Hope not a female Om Swami in the making.
Shivani Durga : Tantric and Occultist as Bigg Boss 11 contestant
Like previous year of Bigg Boss, a tantric is coming again in Bigg Boss 11 as a commoner contestant. She is famous tantric and occultist Shivani Durga. See profile, biography, educational qualification and interesting achievements of Shivani Durga and follow her Bigg Boss 11 journey.
Shivani Durha is well educated and had done two Phd's in Occult, Haitian Vodou, Wicca, Tantra, Dasha Mahavidya and Karma Kanda. Her aim is to spread awareness about tantra vidya which is considered as a harmful thing in India. She has done several works and for that and probably this might be an aim to be a contestant in Bigg Boss season 11 as a commoner contestant.
Profile, biography, wiki of Shivani Durga, Bigg Boss 11 contestant
Shivani Durga present status
- She is owner of Purple Feather Publications, producer at Sshivani Durga productions and founder of Sarveshwari Shakti Women Akhara.
Shivani Durga age
- Her date of birth is on 1976 and her present age is 40 years.
Shivani Durga address
- She is basically from Noida but presently in Mumbai.
Facebook profile of Shivani Durga
-
https://www.facebook.com/sshivani.durga
.
Twitter profile of Shivani Durga
- No twitter account available.
Educational qualification and works done by Shivani Durga
Shivani Durga is highly qualifies, she did two Phd,s from Chicago University. After returning to India she became a disciple of Nagnath Yogeshwar. She has been passionate to go cemetery right from her childhood. She is devotee of Shiv and became a gormandizer (aghori). She is also expert in mysterious tantra like Wicca and Vodou.
Shivani Durga in and as contestant of Bigg Boss 11
Shivani Durga may have to face a tough challenge as being from completely different field, she can either have an upper edge if she succeeds in impressing by her knowledge and work or can be cornered due to an unknown fear which usually people have for tantriks. Swami OM's image of previous season can also have an impact in initial days but this may not have lasting affect. Overall the Bigg Boss 11 journey of Shivani Durga will not be easy.