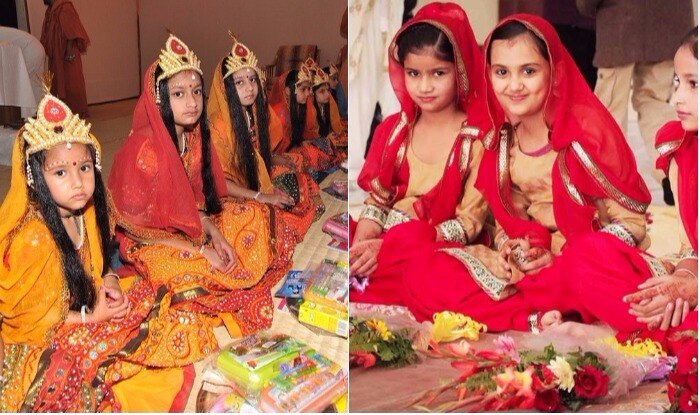 The ten-day Hindu festival, Navratri is celebrated in full swing. Celebrated all across the country, Navratri is one of the most significant Hindu festivals which translate to nine nights of festivities. The multi-day event witnesses numerous customs and rituals. One of the important ceremonies performed during Navratri is Kanya Pujan. Also known as Kanya Puja, Kumarika Puja or Kumari Puja, it is done on a single day either on Durga Ashtami or Maha Navami. Sharad Navratri 2017, which began on September 21, will have Kanya Puja 2017 date falling on September 28 and 29. On this day, nine young girls represent the nine forms of Goddess Durga and offered food. This article will give out information on Kanya Puja food and Prasad during the Navratri festival.

Kanya Puja Time

According to religious texts, Kanya Puja is suggested on all nine days of Navratri. But on two days – Ashtami and Navami Tithi, it holds much importance with devotees inviting nine girls to worship and offer food and Prasad and seeks their blessings. Navratri, which is one of the most important periods in Hinduism, witnesses this age-old tradition for hundreds of years.

Kanya Puja on Durga Ashtami: According to the Drik Panchang, Ashtami Tithi begins at 19:08 on September 27, 2017, and Ashtami Tithi Ends at 21:36 on September 28, 2017. The Kanya Puja is considered best to take place in the morning after the Ashtami Puja. Devotees can also perform the Puja in the evening if not possible in morning. For those who will perform Kanya Puja on Maha Navami, according to the Drik Panchang, Navami Tithi begins at 21:36 on September 28, 2017, and Navami Tithi ends at 23:49 on September 29, 2017.

Kanya Puja Vidhi

As per Holy Scriptures, girls from two to ten years are considered most suitable for Kanya Puja. These girls represent each of nine forms of Maa Durga. The various forms of Durga are named as – Kumarika, Trimurti, Kalyani, Rohini, Kali, Chandika, Shanbhavi, Durga and Bhadra or Subhadra. It is believed that without observing Kanya Pujan, the sadhana or devotion to Goddes Durga during Navratri will not be considered complete.

Invite nine kumaris aka nine young girls aka at home. Wash their feet and apply red alta (red dye). Tie moli dhaga (red-yellow-orange coloured holy thread) on their hands. Some devotees also put a bindi or red vermillion on the foreheads of the girls. Offer them seats and serve them holy food prepared especially for them. It is called Kanya Puja food along with prasad. Depending from host to host, they either present gifts to the visiting kumaris or give them money. After completing all the rituals, the devotees touch the feet of girls and take their blessings.

Kanya Puja Food and Prasad

A traditional Kanya Pujan thali comprises puris, kale chane and sooji ka halwa garnished with dry fruits. Devotees can also include kheer and fruits, mostly bananas and apples in the Kanjak bhog. Sweets such as ladoos and pedas are also a huge hit among the children. Kanya Puja which is primarily celebrated in the northing Indian households depicts its own style and flavours to the thali to make food even more delicious for the kids. The scared bhog does not have the presence of onion and garlic.