Ghatasthapana 2017 Date: Muhurat Timings and Puja Vidhi to Start Navaratri Festival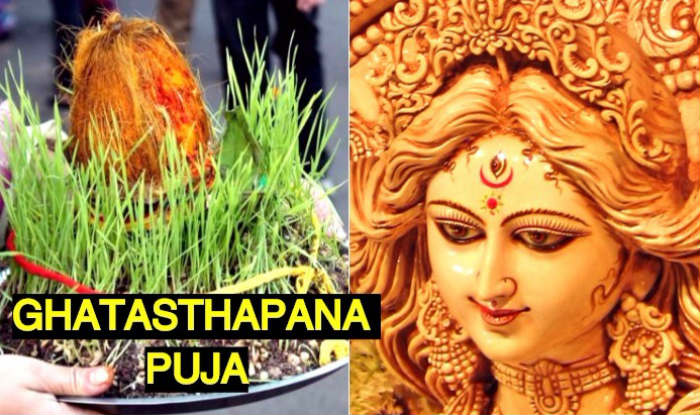 Sharad Navaratri festival, the most popular of the five Navratris will start on September 21, 2017, continue till September 29. One of the widely celebrated festivals in Hinduism, it is dedicated to Goddess Durga. Despite varied style in celebrations from region to region; the devotees primarily worship Maa Shakti in nine forms during the nine days of Navratri. The festival begins with the invocation of Devi Durga with a traditional ritual (puja vidhi) called Ghatasthapana Puja, also known as Kalash Sthapana. Ghatasthapana muhurat falls on Pratipada Tithi (first day) of Navratri. It marks the beginning of nine days festivity and is important to be carried out on auspicious time or shubh muhurat. Navratri Colours 2017 With Dates: 9 Different Coloured Dresses to Wear Each Day.

The first day or Pratipada of Navratri 2017 falls on Thursday. Devotees will be performing Ghatasthapana Puja as well as Maa Shailputri Puja on the day. Devi Shailputri is the first manifestation of Goddess Durga and is worshipped on the first day of Navratri. The best time to perform Ghatasthapana puja is the first one-third of the day. The Hindu scriptures clearly state that the long-established ceremony must be done in shubh muhurat otherwise it might bring the wrath of Goddess Shakti.

Navratri Ghatasthapana 2017 Muhurat

According to DrikPanchang.com, 2017 Shardiya Navratri Ghatasthapana Muhurat is 06:30 am to 08:19 am on Pratipada Tithi, which is September 21. Durga devotees will have a duration of 1 hour and 48 minutes shubh muhurat to do Ghatasthapana Puja. But the most auspicious time to perform Ghatasthapana is during Abhijit Muhurat. It will be between 11.49 am to 12.37 pm giving a duration of 48 minutes for devotees to carry out the rituals. It is believed that devotees doing Ghatasthapana Puja during the Abhijit Muhurat will have all their wishes fulfiled. The Pratipada Tithi begins at 10:59 on September 20 and ends at 10:34 the next day. Performing Ghatasthapana Puja during Amavasya and night time is prohibited.

Ghatasthapana Puja Vidhi



Ghatasthapana is also known as Kalash Sthapana or Kalashsthapana. Before the devotee begins with invoking Goddess Durga, they must place a holy Kalash. According to Drik Panchang, the first step is to take a wide clay pot (the one which would be used to keep the Kalash) to sow the grains. Spread the first layer of the soil into the pot and then spread the grain seeds. Now add the second layer of the soil and grains. In the second layer, grains should be spread near the periphery of the pot. Now spread the third and final layer of the soil into the pot. If needed add little water to the pot to set the soil.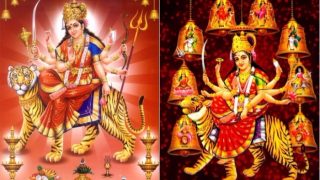 Begin the second step by tying the sacred thread (colourful moli) on the neck of the Kalash and fill it up with the holy water up to the neck. Drop Supari (betel nut), scent (perfume), Durva grass, Akshat (rice) and coins into the water. Keep five leaves of ashoka or mango tree at the edge of the Kalash before covering it with a lid.

In the third step, take the un-peeled coconut and wrap it inside the red cloth. Wrap the coconut in a red cloth and the sacred thread (Moli). Now keep the coconut on top of the Kalash prepared earlier. At last, put the Kalash in the centre of the grain pot. After the Kalash is ready, the devotee must invoke Goddess Durga in it. Pray to the ultimate divine feminine power to be present in the Kalash on all the nine days. One must sprinkle water on it on all the nine days.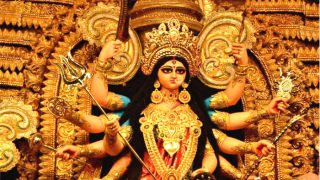 Panchopachara Puja

After invocation of Goddess Durga is done, the devotee must worship the Kalash. This is called Panchopachara Puja, which is done with five Puja items. Light a diya and invoke all Gods while worshipping the Kalash with it. Follow this with lighting scented incense or dhoop sticks. After this, offer flowers and scent or Chandan (sandalwood) on Kalash. Conclude the Panchopachara Puja of Ghatasthapana by offering Naivedhya or Prasad, from sweets to fruits.