Happy Holi 2018: Here's All You Need to Know About Laddu Mar Holi and Lath Mar Holi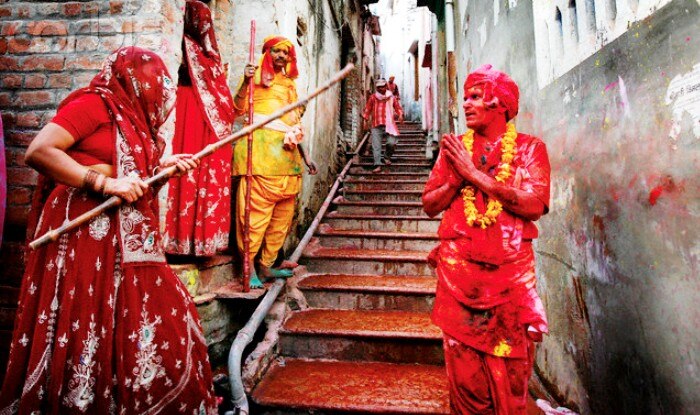 The next day is celebrated as Lath Mar Holi. This year, Lath Mar Holi will be celebrated on February 24. It typically takes place days before the actual Holi in the neighbouring towns of Barsana and Nandgaon near Mathura. Thousands of Hindus and tourists gather to celebrate this day. A popular legend suggests that Lord Krishna visited his beloved Radha's village on this day and playfully teased her and her friends. The women of Barsana took offence at this and chased him away. In a hat tip to this story, the men from Nandgaon visit the town of Barsana every year and are greeted by sticks (aka lathis) of the women there. The ladies hurl sticks at the men, who try to shield themselves as much as they can. The ones captured by the enthusiastic women are then made to wear female clothing and dance in public.

Here's how Lath Mar Holi is celebrated in Barsana:

Thousands gather to witness the Lath Mar Holi when women beat up men with sticks (laṭh or lāṭhī) at the Radha Rani temple in Barsana, which is said to be the only temple in the country that is dedicated to Radha. Spectators also sing Holi Songs and shout Sri Radhey or Sri Krishna. While the women beat the men with lathis on the first day, the second day is celebrated differently. On the second day, the men invade Nandgaon and drench the womenfolk of Nandgaon in colours of 'kesudo', and 'palash'. In between the celebrations, participants sip 'thandai', a cold drink that is sometimes intoxicating because it is laced with a paste called bhang, made of cannabis. Reportedly, womenfolk begin preparation for Lath Mar Holi almost a month in advance. Lath Mar Holi is a day of fun, love and equality.