Diwali 2018: Top Ideas to Decorate your House With Diyas, Lamps, Colorful Lights and More On This Diwali
Diwali 2018: Top Ideas to Decorate your House With Diyas, Lamps, Colorful Lights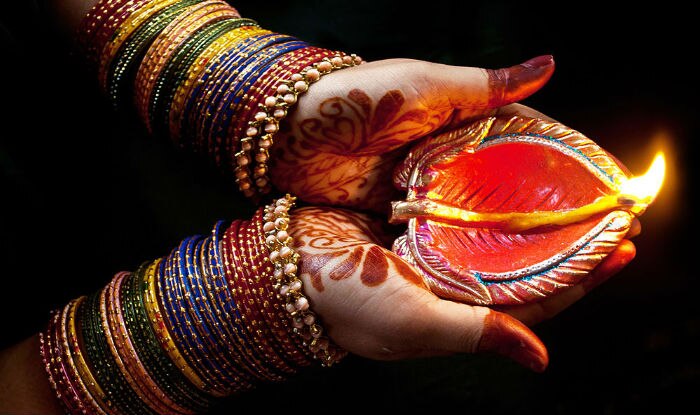 Diwali is celebrated on November 7, 2018. We are sure all of you have already begun your preparations. It is that time of the year when everybody cleans every corner of the house. Post all the cleaning and dusting, the next step of preparations is decorating the house with beautiful diyas and lights. Decorating your house can be a big task because it is always filled with confusion. There is so much you want to do but you are not sure how to execute it. Sometimes, people run out of ideas. So to make this whole process of Diwali decoration easier for you, here are the top ideas that will help you go about it easily.
DIY Diyas
Diwali is incomplete till you light up few diyas and place them in every corner of your house, on windows and doorstep. This year, instead of just picking a diya from the market and lighting it up, you can hand paint them add your own creativity to it.
Floating candles
To make your house look fancy, you can also keep floating candles inside your house, It adds up to the beauty and also can make for amazing decor.
Flowers
If you love flowers, you can also buy them to make your windows and doors look prettier. If you buy artificial ones, it will stay for a longer duration. You can also hang them on the walls the entire look and feel of your house will change.
Fairy lights
Fairy lights are beautiful not just during Diwali, but all through the year. It always makes your house look cozy and prettier. You can switch of your main light and leave only the fairy lights on.
Rangoli
Now this one goes without saying. One of the most important parts of decoration is obviously the Rangoli. Instead of sticking to your traditional Rangoli designs, you can add a touch of contemporary. You can place diyas, floating candles on your Rangoli too.
Lanterns
Another most important part about Diwali celebration is hanging lanterns on your windows. During Diwali, if you take a walk down your street, you will notice lanterns on almost every window. It lights up the whole city. So this Diwali, make sure you also buy a lantern.
Bottle lights
You do know that there are different types of lights available in the market. One such light is the bottle light that is widely used by people who love doing decor. You can buy bottles that have fairy lights in them or for the one that has a candle holder. There are also battery operated bottle lights that works with a switch.
Textured walls
If you want to go a little too far, you can paint your walls with a different color. Textured walls are the trend and when you do it on Diwali, it will give you a festive look. You can either get it done or do it yourself.
Curtains
And finally, to give your house a complete makeover, buy new curtains and curtain tassels. Buy curtains that complement your walls. You can also go for colours that contrast. Just add some colours to your rooms by buying vibrant coloured curtains.
With so many ideas, we are sure your house will look all ready to celebrate the festival of lights, Brighten up your house with these ideas. You can use these ideas to even decorate your workspace.