Life in pics: Sridevi, Indiaís first female superstar
Image credit: Facebook
Young Sridevi with family
Sridevi was born as Shree Amma Yanger Ayyapan in Sivakasi, Madras state of India on 13 August 1963. Srideviís father Ayyapan was Tamil while mother Rajeswari was from Tirupati, Andhra Pradesh. Her father worked as a lawyer and she spend her childhood with two stepbrothers and a real sister. Her early age was spent in South India itself.
2/11
Image credit: Facebook
Sridevi in Thunaivan movie
Sridevi started working in films form the age of 4 itself, with her first movie being a devotional one, Thunaivan in 1969. Post working in this one, she continued to act as a child artist in Tamil, Telugu, Malayalam and Kannada films.
3/11
Image credit: Facebook
Srideviís still from Julie
Along with South Indian cinema, she started taking projects in Bollywood as well, with her first appearance in 1975 movie Julie.
4/11
Image credit: Facebook
Srideviís journey in South Indian cinema
Due to her origin being of the South, Sridevi played her first adult role at age 13 with the Tamil film Moondru Mudichu. She started getting acknowledged for her work after a couple of movies and soon bagged leading roles in movies like 16 Vayathinile (1977), Sigappu Rojakkal (1978), Meendum Kokila (1981), Moondram Pirai (1982), Aakhari Poratam (1988), Jagadeka Veerudu Atiloka Sundari (1990) and Kshana Kshanam (1991).
5/11
Image credit: Facebook
Srideviís red carpet entry in Bollywood
She became popular with her performance in Sadma and Bollywood film makers seeked to cast her in their movies, with Tohwa and Mawaali being some of her first few Bollywood movies.
6/11
Image credit: Youtube
Srideviís stepping stone movies to success
After creating the base, she got hands on some of the suspected blockbusters like Nagina, Mr, India, Chaalbaz, Chandni and such that got her the title of Indiaís first female superstar.
7/11
Image credit: Facebook
Srideviís marital life
As per rumors, Sridevi was married to Mithun Chakravarti for 3 years from 1985 to 1988 after which she moved on for not being secure in the marriage. Her chemistry with film maker Boney Kapoor got intense and the duo got hitched in a secret ceremony in 1996. Sridevi got married and delivered her first daughter, Jhanvi before she could publicly announce her marriage to Boney.
8/11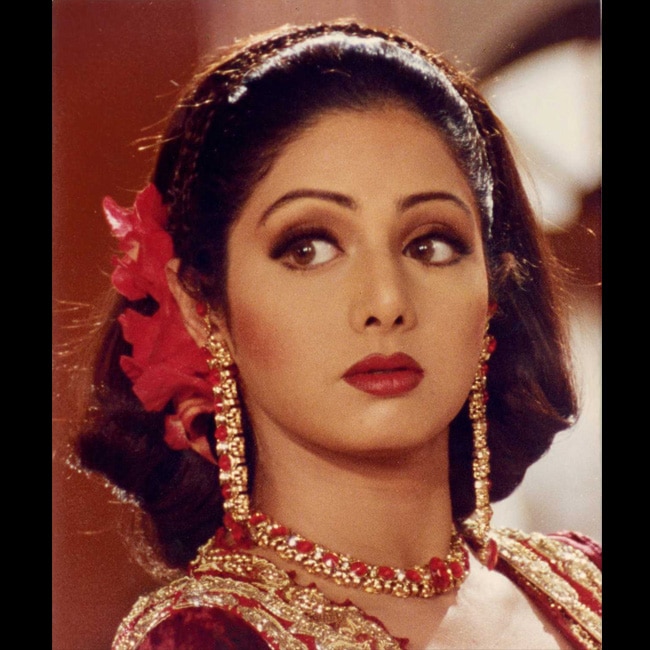 Image credit: Facebook
Srideviís break from the work
Sridevi took a break after compiling Judaai while she was pregnant with her second daughter Khushi.
9/11
Image credit: Facebook
Srideviís comeback with English Vinglish
After her 15 year break , Sridevi was back in Gauri Shinde's 'English Vinglish' (2012) as the homemaker who goes to learn English but instead discovers her identity. The film travelled to international festivals and spawned a clutch of lookalikes in other languages.
10/11
Image credit: Facebook
Srideviís last leg of movies
She then acted with Vijay in the Tamil fantasy 'Puli' before her final film, the thriller 'Mom', produced by her husband Boney Kapoor. 'Mom' was her 300th film. It was the end of a remarkable journey which started at the age of four and ended at fifty-four, when she was looking good for many more.
11/11
Image credit: Facebook
Srideviís remarkable achievements
Sridevi has been honored with various prestigious awards in her career, some of them being: Padma Shri in 2013, Filmfare awards, Zee awards, MAMI Award in Contribution to Indian Cinema, FICCI "Living Legend in Entertainment Award" , Smita Patil Memorial Award for Contribution to Indian Cinema and many more.