Bollywood celebs that have been booked for criminal charges
1/7
Image credit: Twitter
Singer Daler Mehndi booked for human trafficking
Famous Punjabi pop singer Daler Mehndi has been convicted for human trafficking by Patiala court on Friday, while the cases on since 2003 against him. Mehndi was taken into custody immediately after the court pronounced its verdict for the case that was registered against the singer in 2003. Singer has been sentenced for two years imprisonment in the case.
2/7
Image credit: Twitter
Sanjay Dutt booked under TADA
Sanju Baba of Bollywood as the world knows was involved in the illegal possession of dangerous weapons with him. He was caught with 9mm pistol and AK-56 rifle in 1993. He was booked under TADA (Terrorist and disruptive Activities act) and was sentenced to 5-year jail by Supreme Court.
3/7
Image credit: Twitter
Salman Khan booked for hit and run case
Salman khan who did not have good impression on the police past few years came in their custody firstly for the ****ing of two black bucks and then for the hit and run case., Salman Khan visited the police station and courts many times. Recently he got a big relief from the court by being proved not guilty in the case.
4/7
Image credit: Twitter
Shiney Ahuja booked for raping a woman
Gangster actor Shiney turned the media upside down when the news of him raping his 20-Year old maid and molesting came to light. The incident happened in 2009 which ended his career in Bollywood.
5/7
Image credit: Twitter
Monica Bedi
Monica Bedi's affair with gangster Abu Salem has never been under wraps and the actress was in for more trouble after she entered Portugal with fake documents and subsequently got arrested. The actress had to spend two and half years of jail time after she was proven guilty in 2006.
6/7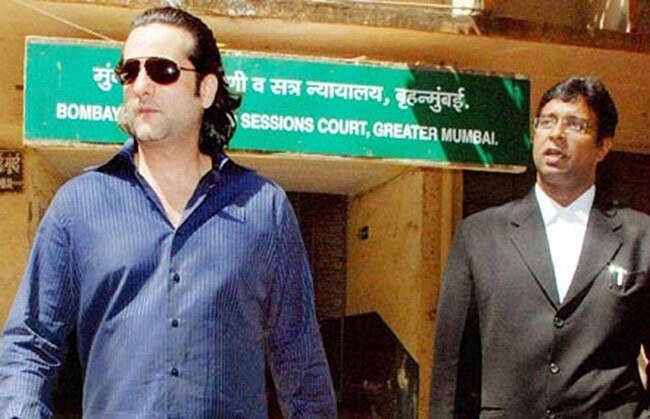 Image credit: Twitter
Fardeen Khan booked for drug trafficking
Actor Fardeen Khan was addicted to drugs and this landed him in after he was busted while attempting to buy cocaine in May 2001. Since the actor plead guilty and denied any intentions of further sale of the drugs, he was let off after a de-addiction treatment.
7/7
Image credit: Twitter
Neelam, Tabu, Sonali Bendre booked for black buck hunting
These actresses have always been present at all the hearings of Salman Khan's Black Buck poaching case. The reason being that the case has just one eye witness 'Shereram', and they were identified by face by him. They were all together at the time of 'Hum Sath Sath Hain'. Saif Ali Khan was present too.