Diwali 2018: Why Festival of Lights is Celebrated by Hindus All Over The World; What Are The Auspicious Days
Diwali 2018: Why Festival of Lights is Celebrated by Hindus All Over The World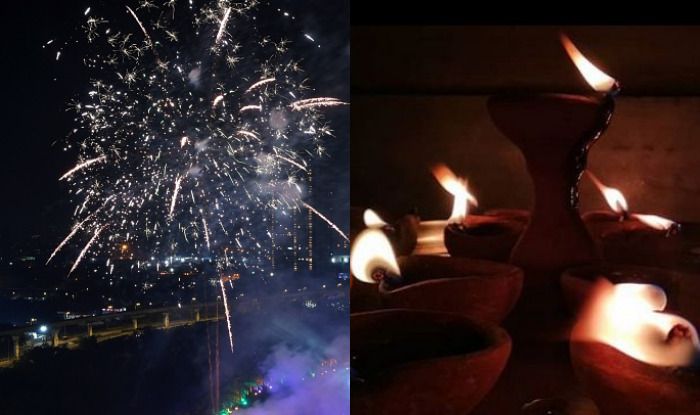 Diwali or Dipavali in Sanskrit, is a Hindu festival celebrated all over the world in the autumn of every year. It is also known as the Festival of Lights and it is one of the most popular festivals of Hinduism because it symbolises the spiritual victory of light over darkness, good over evil and knowledge over ignorance. This year Diwali will be celebrated in most parts of India on November 7, and in the southern states on November 6.
Diwali is a festival that usually lasts for five days with the third day being the main day of festivities. During the celebration, temples, homes, shops and office buildings are brightly illuminated with lights and earthen lamps. The festival falls, according to the Hindu calendar, in the month of Karthik, which is said to be the darkest night.
In India, the significance of Diwali differs from state to state with people following different traditions. One tradition that is popularly associated with Diwali is the Hindu epic Ramayana. It is believed to be the day where Rama, Sita, Lakshman and Hanuman reached Ayodhya after a period of 14 years of exile and Ramaís army of good defeated demon king Ravanaís army of evil in Lanka. When they returned home, the whole kingdom was lit up with lamps with people rejoicing and celebrating.
DHANTERAS:
The festival starts off with Dhanteras, which is celebrated on November 5 this year. The meaning of the word is derived from Dhan meaning wealth and Teras meaning thirteenth, which marks the thirteenth day of the dark fortnight of Kartik and the beginning of Diwali. On this day, Hindus install diyas and brightly coloured lights outside their homes. They also mark the day by purchasing new utensils. In the evening, families offer prayers to Lakshmi and Ganesha.
CHOTI DIWALI:
The day after Dhanteras, people celebrate Choti Diwali, this year on November 6, and it is also known as Naraka Chaturdasi. The term Choti means little, while Naraka means hell and Chaturdasi means fourteenth. The day and its rituals are interpreted as ways to liberate any souls from their suffering in Naraka, or hell, as well as a reminder of spiritual auspiciousness.
DIWALI/LAKSHMI PUJA:
This year Diwali is being celebrated on November 7, and the third day of festivities coincides with the last day of the dark fortnight of the lunar month. At dusk, family members gather for the Lakshmi puja and after that, family members get together to hold feasts, exchange gifts and burn crackers. The day is dedicated to goddess Lakshmi to welcome her into their cleaned homes and bring prosperity and happiness for the coming year.
GOVARDHAN PUJA:
The day after Diwali is the first day of the bright fortnight of the luni-solar calendar, namely Govardhan Puja, and it will be celebrated on November 8 this year. This day ritually celebrates the bond between wife and husband, and in some Hindu communities, husbands will celebrate this with gifts to their wives.
BHAI DUJ:

The last day of the festival is called Bhai duj, literally meaning brotherís day, and this year it is being celebrated on November 9. The day is in celebration of the sister-brother bond. On this day the brother will travel to his sisterís house where he will be welcomed with a tilak on his forehead. The celebrations are similar in spirit to Raksha Bandhan.

Apart from all the pujas there will be a lot of feasting and sharing of gifts and sweets among friends and family.

Ads