Durga Puja 2017 Makeup Look: How to get Sonakshi Sinha inspired Durgotsava Makeup Look
Durga Puja 2017 is almost here! Durga Puja which is also called Durgotsava is an annual Hindu festival celebrated to honor the goddess Durga, in the month of Ashvin. The festival typically falls in the month of September or October, particularly in the eastern and northeastern states of the country. For the festival, temples of goddess Durga are decorated and there are a lot of beautiful cultural performances, pujas and processions that one can be part of during this festive period. Women dress up in the best of traditional attires and celebrate this auspicious festival with their family and loved ones.
(ALSO READ Navratri 2017 Makeup Look: How to get Deepika Padukone inspired Ram Leela style Navratri or Garba Makeup Look).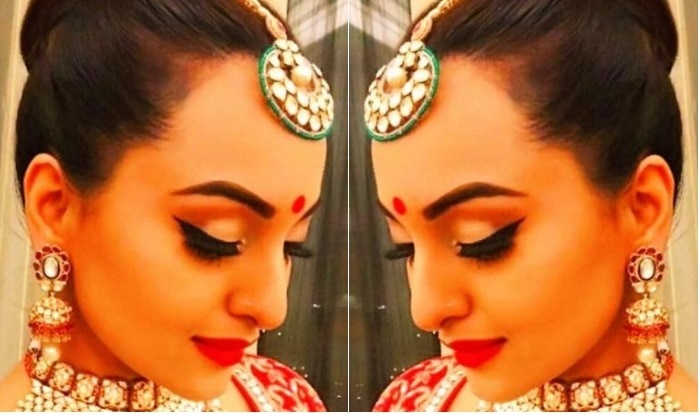 Bollywood actress Sonakshi Sinha is known for her perfect makeup looks. Today we are helping your get the best of the Bollywood actress' festive makeup look for Durga Puja. You can don this simple yet stunning look for Durga Puja 2017 celebration. Here is a Sonakshi Sinha inspired festive makeup tutorial for you to try out this Durga Puja.

Sonakshi has flawless skin, to get that perfect glowing makeup, you need to get the base right. So start by applying some primer all over your face. This will help you to make your makeup last longer. Then take a foundation that matches your skin tone and apply it all over your face. Using a beauty blender or a makeup sponge, blend the foundation well, so that you get even-toned skin.

Use some concealer on your problem areas like under your eyes and on any acne or blemishes. Again use the beauty blender to blend in the concealer so as to cover all the flaws. If you want more coverage, you can also apply another layer of brightening concealer under your eyes.

Now, groom, your brows using an eyebrow brush and then use some translucent powder to set the base under your eyes. Apply an earthy shade of brown eye shadow all over your crease. Using the same eye shadow, wing it out. Now using a brush blend it well and follow it up by applying some glittery golden eye shadow on your lids. Blend this well too. Use some highlighter on your brow bone. Apply a thick line of eyeliner on your upper lash line and using a liquid liner wing it out to get a dramatic effect. Use a dash of mascara on both your upper and lower lashes to open up your eyes.

Using your contour kit, start contouring your cheekbones, jawline, bridge of the nose and your hairline. Blend well so that the contour lines blend in with the rest of your makeup. Also use a tad bit of highlighter on the bridge of your nose and your cheek bones. Add some blush to your cheeks to add a pop of color and finish off with bright red lipstick.

Watch the video above to follow the step-by-step makeup tips. Pull back your hair into a neat bun, apply bright red bindi and wear your traditional outfit and ethnic jewelry to rock this look.

Ads