Diwali Rangoli Designs: 5 Easy-to-make, Colorful Rangoli Designs to Celebrate Diwali 2017
Here's How to Make Colourful Rangoli to Adorn Your Home This Diwali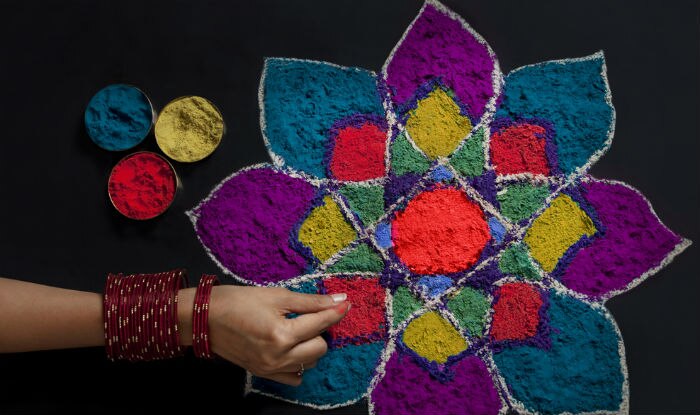 Diwali, the most awaited Indian festival, is just around the corner and we are you have already started the preparation, starting with the cleaning of your house. The festival, which is celebrated in the Hindu month of Kartika, falls on October 19 this year. The festival is a celebration of the victory of light over darkness and good over evil. On this day, people worship goddess Lakshmi, offer food to the goddess, decorate their house with lamps and flowers, prepare sweets, meet friends and family and burst firecrackers. Another important tradition followed during the festival is making rangoli. People make beautiful rangoli in their courtyard or balcony. It is an art that originated in India and it is prepared using materials like colored sand, dry flour and flowers. During Diwali, rangolis are prepared using colored sand. There are different types of rangoli in different parts of the country including alpana in West Bengal, kolam in Tamil Nadu, muggu in Andhra Pradesh and Sanskar Bharti in Maharashtra. The designs of rangoli are usually passed down from one generation to another. It is not just prepared to beautify the house but also to bring good luck. It is a reflection of the culture of the region and can also include some folklore. These days, people have a busy life and it is difficult to make an elaborate rangoli design. So, here are some easy to make rangoli designs you can try this Diwali.

Door rangoli design

Here is the perfect design you can make at your doorstep. Using simple materials like sieve and cotton buds, you can make this beautiful design. Complete the design with a couple of lamps.2

Free-hand diya design

If you are looking for a simple design then this is for you. All you need is a funnel and you are ready to decorate your corridor with this beautiful rangoli design.

Easy multi-colored rangoli
Here's another rangoli design that is easy to make. The trick is to use the everyday material to make the rangoli. Do try this one to decorate your doorstep.

Free-hand floral rangoli
This one again uses a funnel to create a floral rangoli design with a lamp. It will be easier if you draw the design first and then make the outline using the sand.

Easy border design
If you are not keen on making the entire rangoli, you can always make border design at your doorstep. Here is a design that looks intricate but is super easy to make.
This Diwali, make your home more welcoming with these beautiful rangoli designs. Do try these designs and you can always add your special touch by adding flowers and lamps.