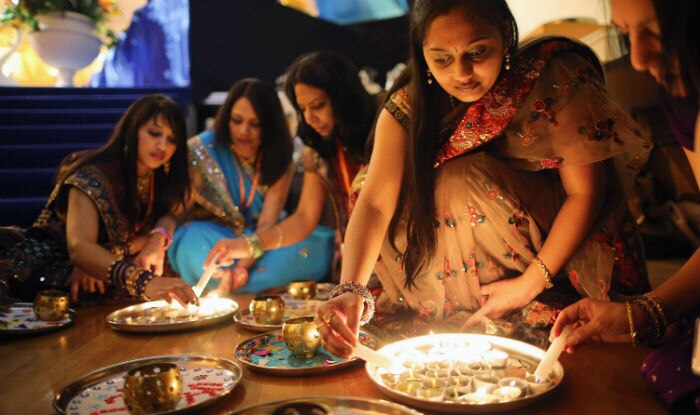 The Hindu festival Diwali also known as Deepavali is celebrated every year in autumn. This year the festival of lights Diwali will be celebrated on October 19, 2017. This festival is celebrated by people in India to honor lord Ram, the seventh avatar of Vishnu. It is believed that Ram won the battle against Ravana and returned after 14 years of exile on this day. This is celebrated as one of the biggest festivals in the country and on this day people light diyas, adorn their houses with marigold flowers and mango leaves. The Hindu Goddess of wealth and prosperity, Goddess Lakshmi is worshiped on this auspicious day. Ahead of this festival, we share with you everything that you need to know about Lakshmi puja vrat, rituals, puja preparations and puja muhurat. Read on to know about the same just in time for the festival. (ALSO READ Diwali 2017: 2-Week Indian Diet Plan to Lose Weight Before Diwali and Look Gorgeous).
Lakshmi Puja Vrat and Rituals

On the auspicious day of Diwali, people in most households get up early in the morning to worship family gods. People also perform Shradh for their ancestors. Devotees of Goddess Lakshmi observe a day-long fast on the day of Lakshmi Puja and break the fast only after the Lakshi Pujan in the evening.

Preparations for Lakshmi Puja

Decorate your house using marigold flowers, mango leaves and banana leaves on the day of Lakshmi Puja. Also, keep Mangalik Kalash with a coconut on top of it at both side of the main door of your home. For the Puja, the idols of Goddess Lakshmi and Lord Ganesha are supposed to be kept on a raised platform. But before placing the idols, the platform has to be covered with a red cloth. Adorn the idols with silk cloth and jewelry. Then keep a white cloth on the on another raised platform on the left-hand side and prepare nine slots of Akshata or unbroken rice before installing Navgraha gods.Now, prepare sixteen slots of wheat on the red cloth before staring with the rest of the Lakshmi Puja Vidhi.

Lakshmi Puja Muhurat

Lakshmi Puja should be done during Pradosh Kaal which starts after sunset and approximately lasts for 2 hours and 24 minutes. Follow the below mentioned Lakshmi Puja Muhurat for Diwali:

Pradosh Kaal Muhurat
Duration = 1 Hour 5 Mins
Pradosh Kaal = 17:39 to 20:12
Vrishabha Kaal = 19:06 to 21:02
Amavasya Tithi Begins = 02:43 on 19/Oct/2017
Amavasya Tithi Ends = 03:11 on 20/Oct/2017

Mahani****a Kaal Muhurat
Lakshmi Puja Muhurta Duration = 0 Hours 51 Mins
Mahani****a Kaal = 23:36 to 24:27+
Simha Kaal = 25:37+ to 27:54+
Amavasya Tithi Begins = 02:43 on 19/Oct/2017
Amavasya Tithi Ends = 03:11 on 20/Oct/2017

Choghadiya Muhurat on Lakshmi Puja
Morning Muhurta (Shubh) = 06:24 – 07:48
Morning Muhurta (Char, Labh, Amrit) = 10:37 – 14:50
Evening Muhurta (Amrit, Char) = 16:15 – 20:50
Night Muhurta (Labh) = 24:02+ – 25:37+

WikiNewForum.com wishes you a very happy and prosperous Diwali 2017! Keep checking this space for more such festive stories.