Ganesh Chaturthi Special Recipes: Modak, Naivedya, Prasad, Puran Poli And Other Traditional Recipes
Ganesh Chaturthi: Top 5 Mouth Watering Sweet Dishes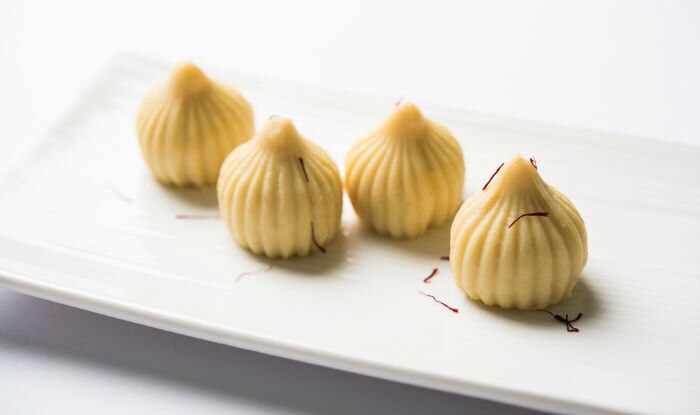 Ganeshotsav is one of the major festivals celebrated in India and will be celebrated on September 13. Ganesh Chaturthi or Ganesh Utsav festival was first celebrated by Chhatrapati Shivaji Maharaja, the great Maratha ruler and since then it is being continued. This festival is popularly also known as 'Vinayak Chaturthi' or 'Vinayaka Chavithi'.
This auspicious festival is celebrated with a lot of devotion and Lord Ganesha always used to love sweets especially modaks and laddoos were one of his favorite delicacies. Mostly these sweets are offered and served to Lord Ganesha as
prasad
,
naivedya
or
bhog
. This festival totally last for 10 days and automatically gets doubled by preparing and serving these delicacies like besan laddoo, kaju barfi, halwas, modak, puran poli, rawa laddoo, etc.
Check out the recipes of top 5 mouth-watering sweet dishes:
Ukadiche or steamed modak:
A traditional Indian sweet dumpling, prepared with rice flour dough and coconut – jaggery stuffing is mainly served to lord Ganesha during Ganapathi Chaturthi festival. Generally, the modak's are steamed with a steamer, but it can also be prepared with frying and even baking.
Puran Poli:
A popular Maharashtrian sweet flatbread recipe made with wheat flour and sweetened chana dal stuffing. it is generally made during special occasions or during festival time, but can be made and preserved at any time. it is eaten or served warm with a generous amount of ghee but also tastes great with pickle recipe.
Coconut laddoos:
This delicious recipe is made with desiccated coconut and can be prepared very quickly. It doesn't actually take time to melt in the mouth as well!
Shrikhand:
This Indian sweet dish is made up of strained yoghurt and this dish has been evolved from Maharashtrian traditional cuisine.
Besan laddoo:
Besan laddoos are sweet balls made from chickpea flour, sugar, ghee and nuts. It is said that Lord Ganesha loves ladoos too apart from modak. So a variety of ladoos like Coconut, Suji, Ravi, boondi are also made for Ganesh Chaturthi.