5 Best Things To Do in Singapore to make your trip memorable
Things To Do in Singapore to make your trip memorable
By
Kritika Vaid
Last updated on - August 23, 2018, 7:16 PM IST
1/5
Image credit: Instagram
Universal Studios Singapore
Go beyond the screen and jump into the action at Universal Studios Singapore on Sentosa Island. Explore themed areas based on your favorite films, buckle into thrilling rides that make you feel like the star of your very own blockbuster hit, and find out how movie makers create stunning visual effects. Step into a world filled with characters and sets from animated flicks and high-octane hits as you arrive in Universal Studios Singapore. Get greeted like fairy-tale royalty by Shrek and Princess Fiona in the land Far Far Away, scale the walls of The Lost World to explore precious stones and fossilized insects, and join your favorite Madagascar characters aboard a wet-and-wild boat ride.
2/5
Image credit: Instagram
Gardens by the Bay Ticket
Stop to smell the roses and flowers from around the world at Gardens by the Bay, an ornate showcase featuring award-winning horticultural and architectural design with a focus on sustainability. From orchid-filled cloud forests to coastal Mediterranean garden recreations, there's plenty to explore in this celebration of the world's flora. From the jungles of South American to the dry deserts of Australia, admire 9 different gardens from 5 major continents in the Flower Dome conservatory. Nearby, in the Cloud Forest room, you can escape to cool highlands dotted with orchids, pitcher plants, and ferns from the Tropical Montane region.
3/5
Image credit: Instagram
Night Safari
Journey into the jungle with a Night Safari at the Singapore Zoo for an up-close look at exotic creatures and nocturnal critters. Skip the line to board an open-windowed tram that takes you through 7 geographical zones, and hop off to explore walking trails through the nighttime habitats. Your evening begins with a ride from your hotel to the Night Safari, where nocturnal adventurers can see what rainforest animals really get up to after hours. Stroll along walking trails to spot creatures that come to life in the dark, like fishing cats, leopards, wallabies, hyenas, and the endangered, armadillo-like pangolin. Tiny mouse deer and big-eyed slow lori peer out through the shadows, and flying foxes swoop overhead in the marshlands habitat.
4/5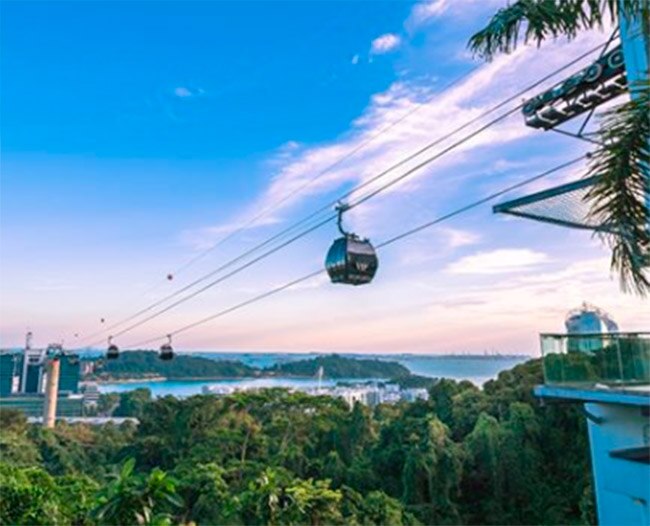 Image credit: Instagram
Cable Car Sky Dining
Get ready for a sky-high meal during a romantic ride on Singapore's Cable Car. Step into your very own private cabin and enjoy expansive views of the city as you share a delicious 4-course meal and spectacular city views. Your Sky Dining experience takes off from Faber Peak Singapore, located 328 feet (100 m) above the sea. This vibrant, hilltop cluster of dining and entertainment attractions amid forested greenery is the perfect starting point for a flight over the city.
5/5
Image credit: Instagram
Genting Dream Cruise
Genting Dream is the first luxury cruise ship to call Singapore its long-term home port. It is also massive, with a gamut of attractions spread over 18 decks, from a waterslide park, a rock climbing wall and even a Zouk beach club. The inaugural ship of Dream Cruises, Genting Dream arrived in Singapore quite recently in November 2017. Since then, it has added a new option to the ever-growing list of potential holiday experiences easily accessible from Singapore.