Raksha Bandhan 2018: Know Muhurat, Auspicious Time to Tie Rakhi
Raksha Bandhan, also known as Rakhi Purnima, is the festival that reinforces the bond between brother and sister. This year, Rakhi is celebrated on Sunday, August 26. Raksha Bandhan is a Sanskrit word, where 'Raksha' means 'Protection' and 'Bandhan' means 'to tie', it basically means 'to tie the knot of protection'. It is also called as Kajri Purnima or Kajri Navami in Northern India. The festival falls on the Hindu month of Shravan during Purnima Day. It is advisable to tie the sacred thread on the auspicious time. The best time to tie Rakhi is during Aparahan muhurat which is during the late afternoon.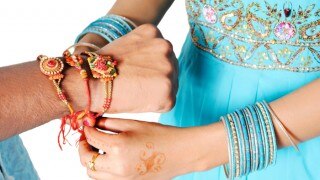 Raksha Bandhan is majorly observed by Hindus and some Jains, all over the world. The bond of protection; is celebrating with much zeal, love and duty between brothers and sisters. Generally, sisters tie the sacred thread on their brother's wrist. But in many occasions today, we even witness women tying Rakhi to their sisters. It is no more stereotyped brothers only to protect their sister. They exchange gifts and notwithstanding mockery between sibling prevails.
Here is the auspicious (tithi) time to tie rakhi: August 26
Raksha Bandhan thread ceremony: 6:25 am to 5:25 pm
Aparahan time Raksha Bandhan muhurat: 1:55 pm to 4:24 pm
Purnima tithi begins: 3:16 pm on August 25, 2018
Purnima tithi ends: 5:25 pm on August 26, 2018