Maha Shivratri for the year 2018 will be celebrated or observed on Wednesday, February 14. It is an important Hindu festival and is celebrated across the country with utmost dedication towards Lord Shiva. A seven-day international fair is held at Mandi town in Himachal Pradesh called the Mandi Shivaratri Fair. It is attended by a large number of gods and goddesses and gives Mandi town the title of 'Varanasi of the Hills'. This year, the week-long fair begins on February 15. Additionally, preparations for the auspicious Maha Shivratri Mahotsav have also begun at Shiv Mandir Kathgarh. The festive preparations are being overlooked by the Prabandh Karini Sabha.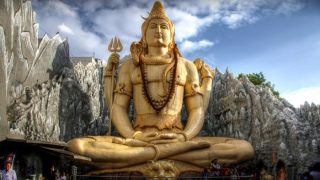 This year, security has been beefed up. Several CCTV cameras have been installed. A request to keep the shops selling alcohol shut has also been raised. The proposal has been sent to the government. The festival will be kickstarted by Benarasai Lal Mehta, Subhash Sharma, Ganesh Dutt Sharma, Yogendra Pal Bharadwaj, among others, on February 12. Rajesh Thakur will be the chief guest on February 14. Shiv Mandir Kathgarh is one of the very famous temples in Himachal Pradesh. It is a temple of Lord Shiva and his wife Parvati and is situated 7 Kilometers from Indora on the meeting point of the Beas and the Choch rivers.

The temple is built in Roman architectural style with two Lingas of light grey Sandy stone of 6' and 4'-7" in height. The temple has a large 'Shivaling', which is vertically split into two parts. Reportedly, the distance between two parts keeps increasing and decreasing from time to time. While the larger portion is worshipped as Lord Shiva, the second one is worshipped as Mata Parvati. The two parts separate in Summer and unite during winter, on Maha Shivratri day. Every year, Shivratri Fair is held at Shiv Mandir Kathgarh on a grand scale. Thousands of devotees come here to pay their obeisance to Lord Shiva
.
There are several popular stories on this temple. One of the myths states that once, 'Lord Vishnu' and 'Lord Brahma' were engaged in a battle to decide supremacy. To stop the warring Gods 'Lord Shiva' intervened in the form of a fire pillar and made the warring Gods stop the battle. The large "Shivaling" at Kathgarh is believed to be from the same fire pillar. Another story states that in the Indian epic 'Ramayana' – king 'Bharat', the brother of lordLorda, used to pay obeisance to Lord Shiva at this pillar on his way to meet his grandparents in Kashmir. Interestingly, the temple also has a Greek connection. The Linga is about the size of a human above the floor. It is believed that same length is buried under the floor. Folklore suggests that it could be one of the statues of Apollo, which Alexander the great built and worshipped on high platforms to mark the spot from where he retreated.