IPL 2018: Eight stadiums that will host matches of Indian Premier League season 11
1/8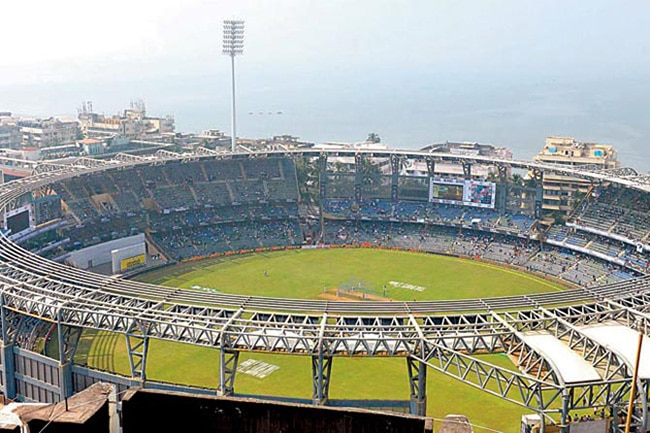 Image credit: Twitter
Wankhede Stadium in Mumbai
The schedule of IPL 2018 is out and here is a sneak-peek into the venues where all the matches are going to happen across India. First one being the Wankhede Stadium of Mumbai, it stands to hold a capacity of 33,108 spectators at a time. Wankhede has been hosting IPL since the beginning of League in 2008 for its maintenance, great pitch and capacity to accommodate good number of people.
2/8
Image credit: Twitter
Feroz Shah Kotla Stadium in Delhi
Feroz Shah Kotla Ground is situated in heart of Delhi and has been listed as the second oldest international cricket stadium still functional in India, after the Eden Gardens in Kolkata. The stadium has been ace cricketers making great records in the premises over year now.
3/8
Image credit: Twitter
Rajiv Gandhi International Stadium, Hyderabad
The Rajiv Gandhi International Cricket Stadium is the principal cricket stadium in Hyderabad, Telangana, India and is the home ground of the Hyderabad Cricket Association. Located in Uppal, it is capable of accommodating 60,000 heads at a time with its land extending upto 16 acres of area.
4/8
Image credit:
M.A.Chidambaram Stadium Chennai, Tamil Nadu
This one is the oldest continuously used cricket stadium in the country, after havign built in 1916. Named after M A Chidambaram, former President of BCCI, the stadium was formerly known as Madras Cricket Club Ground.
5/8
Image credit: Twitter
Sawai Man Singh Stadium, Jaipur, Rajasthan
Having been built during the reign of Maharaja Sawai Man Singh II, the stadium was built after his name. The stadium has the capability to accommodate seats 23,185 and will host multiple matches of IPL 2018.
6/8
Image credit: Twitter
M.Chinnaswamy Stadium Bengaluru, Karnataka
M. Chinnaswamy Stadium holds the title of being the first stadium of India to use solar panels to generate a bulk of the electricity needed to run the stadium. This stadium with a seating capacity of around 40,000 not only regularly hosts Test cricket, One Day Internationals (ODI) and other First-class cricket matches.
7/8
Image credit: Twitter
Holkar Stadium Cricket Stadium, Indore, Madhya Pradesh
Holkar Cricket Stadium has a seating capacity of around 30,000 spectators. It is also equipped with flood lights for night matches.
8/8
Image credit: Twitter
I.S. Bindra Punjab Cricket Association Stadium, Mohali
The Punjab Cricket Association IS Bindra Stadium is located in Mohali. To add, construction of the stadium took around Rs 25 crore and 3 years to complete. The stadium has an official capacity of 26,950 spectators. The stadium was designed by Arun Loomba and Associates, Panchkula and constructed by R.S. Construction Company, Chandigarh.