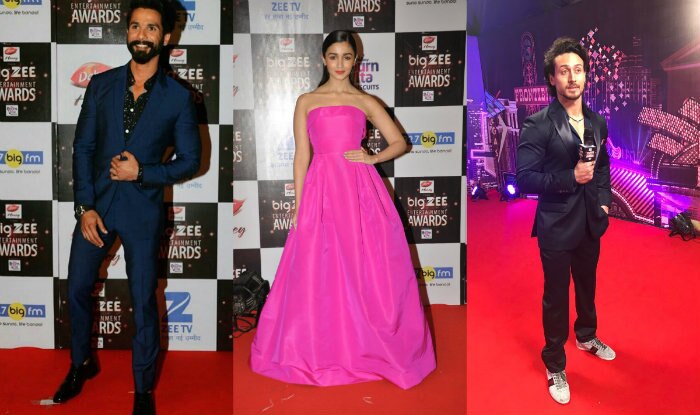 The celebs of Bollywood certainly had one hell of a Saturday night as they were seen having a gala time at the 2017 edition of the Big Zee Entertainment Awards last night (July 29). Alia Bhatt, Shahid Kapoor, Amitabh Bachchan, Aishwarya Rai Bachchan, Salman Khan, Tiger Shroff, were among those present in what seemed like one star studded evening in Mumbai. Like what we saw in IIFA 2017 the event was hosted by Karan Johar, but was joined by actor comedian Sunil Grover this time around.
The celebs looked as gorgeous and handsome as ever, as they came to collect their awards. As he did in IIFA 2017,
Shahid
again came on stage to receive the Best Actor Award for his role in Udta Punjab.
Alia
also won the Best Actress award for the same film, as she got recognised once more.
Amitabh Bachchan
received the award for Most Entertaining Actor in Drama – Male for his performance in Pink, whereas his daughter in law
Aishwarya
won Most Entertaining Actor in Drama – Female, for Sarbjit. Even
Abhishek Bachchan
won the Most Entertaining Actor in Comedy – Male for Housefull 3, rounding it up as a great night for the Bachchans.
Tiger Shroff
received two awards on the night as he seemed elated in his Instagram post where he's seen posing with the two awards from the night.
Anupam Kher
received an award for a category called 'हिट थे, हिट रहेंगे' He posted saying: "Thank you #BigZeeAwards for giving me 'हिट थे, हिट रहेंगे' award. This is NOT my life time achievement award. That wil be after 30yrs. #HumbledAndHonoured #FromSaaranshToTheBigSick #GreatJourneySoFar #JoyOfMovies #32Years509Films #GodIsKindWhile,"
@
http://www.india.com/showbiz/big-zee...phies-2363068/
Big Zee Awards 2017: Salman Khan, Alia Bhatt, Sushant Singh Rajput, Disha Patani Make A Glamorous Red Carpet Appearance (View Pics)
Which one is your favourite?
162 Shares

Facebook share
Twitter share
Share on Google+


Comments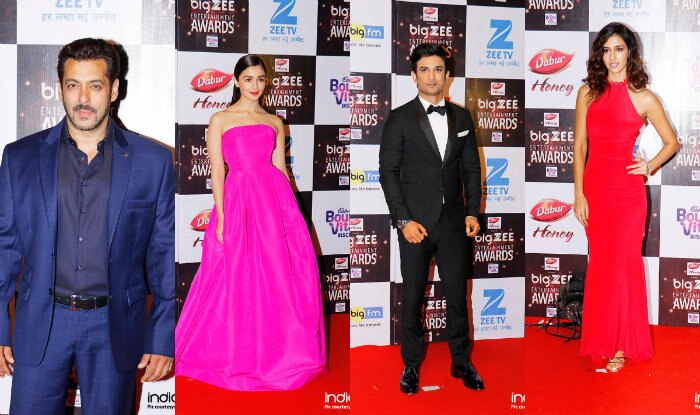 Big Zee Awards 2017 just happened and it was glamorous and how. Stars like Salman Khan, Disha Patani, Aishwarya Rai Bachchan, Disha Patani, Sushant Singh Rajput, Shahid Kapoor, Divyanka Tripathi Dahiya, Sunny Leone made starry appearance. Also, some of these stars won accolades they deserved. What more interesting were their red carpet appearances. As expected, these stars were in their best modes. Alia Bhatt shined in pink while Salman looked dapper in formals. Shahid Kapoor's beard looked hot while Sunny Leone looked dazzling is a shimmery outfit. It is the big day for them and they totally **** it with their smiling faces!
Take a look here
Sunny Leone with husband Daniel Weber at Big Zee Awards 2017
'Gold' actress Mouni Roy at Big Zee Awards 2017
Tiger Shroff at Big Zee Awards 2017
Salman Khan at Big Zee Awards 2017
Disha Patani at Big Zee Awards 2017
Kiara Advani at Big Zee Awards 2017
Alia Bhatt at Big Zee Awards 2017
Shahid Kapoor at Big Zee Awards 2017
Divyanka Tripathi Dahiya and Vivek Dahiya at Big Zee Awards 2017
Sushant Singh Rajput at Big Zee Awards 2017
Salman Khan and his performance was a totally cool one. He surprised his fans with three themes. The first one was for all the 'Prem' fans, who loved his romantic songs. The second one was for the peppy song lovers like 'baby ko bass pasand hai' and the third one had the 'Sultan rise' theme. Overall, it was a whole package of entertainment, just as Salman would like it! (
ALSO READ: Big Zee Entertainment Awards 2017 Winners List: Shahid Kapoor, Alia Bhatt, Tiger Shroff Walk Away With Trophies
)
Another catchy and hilarious event was the hosting! Earlier, there were speculations that it will be Kapil Sharma hosting the show However, Sunil Grover replaced him! The hosting was taken up by Karan Johar and Sunil Grover, and you can only imagine the outcome. Well, for now, all we can do is go through the pictures! Whom did you find the best amongst all? Do post your views in the comment section below and stay tuned to India.com for more d