The holiday season has already begun and people are planning celebrations for New Years' Eve. New Year's is one among the days celebrated across the world with great pomp and fervour. December 31st sees large-scale celebrations across the globe with major social gatherings and get-togethers. Certain countries also have culture and traditions attached to the day with religious practices also. Most people eat, drink and dance the night away welcoming the New Year in a joyous way. Fireworks are another major attraction of the evening and it attracts a lot of people. In between the celebrations so that you don't forget to wish your loved ones, we have a list of Hindi messages for you. The list includes everything from New Year Hindi Facebook messages, GIFs, wallpapers, WhatsApp quotes and wishes you can choose from and send people.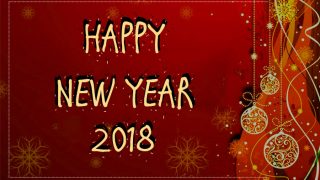 New Year is observed on January 1, the first day of the year on the modern Gregorian calendar. Just like the Modern calendar, Julian calendar used in the Roman Empire since 45 BC also observes the first day of the year on January 1. In countries like the Czech Republic, Italy, Spain, the UK, and the United States, January 1 is considered a national holiday. New Year's Day is an important celebration for cultures which traditionally use calendars other than the Gregorian. For countries which concurrently use the Gregorian, they celebrate the day on January 1. Here are the Hindi messages you can send your loved ones on the stroke of midnight:


WhatsApp reads: Har baar jab bhi naya saal aata hain, hum dua karte hain ki aapko iss saal bhi woh sab miley jo aapka dil chahta hain. Naya saal aapko Mubarak ho!


Facebook Status: Iss naye saal me, aapki har muraad poori ho aur bhagwan aapka daaman dher saari khushiyon se bhar de-in duayon ke saath, aapko naya saal Mubarak ho!


WhatsApp reads: Naya saal aapki zindagi me khushiyan, aur saphalta le aayen-ishwar se yahi prarthna karte hain. Naye saal ki bahut bahut subhkamayen.


Facebook Status: Koi dukhi na rahen, koi udaas na rahe, kissika dil na toote, bus pyar hi pyar duniya me bhara rahen-kaash yeh saal sabke liye aisa hi ho- meri taraf se aapko naye saal ki dher sari subhkaamnayen.


WhatsApp reads: Naya saal, nayi ummeeden, naye vichar aur nayi shuruwat-bhagwan Karen aapki har dua haqeeqat ban jaye! Naye saal ki bahut bahut subhkamayen.


Facebook Status: Meri dua hain ki aapko aanewale saal me 12 mahine khushiyan milen, 52 hafte kaamyabi miley aur 365 din mazedar rahen-naye saal ki dher saari shubhkamnayen.


WhatsApp reads: Khushiyan rahen aapke paas, gham nahi, kaamyabi rahen aapke paas, nakamyabi nahi, sab kuch acha ho aapke sath, bura kuch bhi nahi. Dua karte hain iss naye saal me aapki har dua poori ho. Naya saal Mubarak ho.


Facebook Status: Hum dua karte hain ki iss naye saal ki har subah aapke umeed jagayen, har dopahar vishwas dilayen, har sham khushiyan layen, aur har raat sukoon se bhari ho. Naye saal ki haardik subhkaamnayen.


WhatsApp reads: Aanewala yeh saal aapke liye sabse acha rahen, aur isshwar aapko aur zyada kaamyab banayen. Issi dua ke saath aapko naye saal ki bahut bahut subhkamnayen.


Facebook Status: Har ek ke dil me ho, doosre ke liye pyar, aur aane wala saal ho khushiyon ka tyohar-naya saal ho sabko Mubarak aur aisa saal aata rahe baar baar. Naye saal ki haardik subhkamnayen aap aur aapke parivaar ke liye.
New Year's day was dedicated to Janus, god of gateways and beginnings in the pre-Christian Rome under the Julian calendar. It is the name of Janus that the name January originated. The day also has mythological references in various cultures and religions. January 1 is a national holiday in countries like the Czech Republic, Italy, Spain, the UK, and the United States. With various mythological references, the day was believed to be a religious feast until the 1900s. With the emergence of pop culture, it gradually became as celebratory affair known as New Year's Eve. We at India.com wish you a great weekend and a Happy New Year!



Published Date: December 28, 2017 11:57 AM IST