IN PICS: Sneak-peek into Vijay Mallya's love life
1/6
Image credit: Twitter
Vijay Mallya with his family
The world is aware of Vijay Mallya's lavish lifestyle and his upsurge as a business tycoon. Apart from throwing limelight on his corporate life, his personal life has always been in more limelight due to his talked about love affairs and two marriages and sensational pictures with leading ladies of the industry.
2/6
Image credit: Twitter
Vijay Mallya s son Sidharth Mallya with his mother Sameera Tyabjee
Mallya's first love interest Sameera Tyabjee came together in 1986 after he saw this beautiful lady on an Air India flight where she was working as an air hostess. He instantly fell for her and soon after married post which they had Siddharth Mallya as their son. They eventually got divorced few years later.
3/6
Image credit: Twitter
Vijay Mallya with his second wife Rekha Mallya
During 1993, Vijay Mallya came across his childhood friend Rekha Mallya when she was on the verge of ending her marriage with husband Shahid Mahmood. Vijay's childhood intimation for Rekha came out as a wedding proposal and the two got married. Rekha already had two kids Laila and Kabir from her previous marriages.
4/6
Image credit: Twitter
Vijay Mallya's ex-wife Rekha Mallya
Post her marriage with Vijay Mallya, he adopted Laila as his own daughter. Mallya and Rekha together have two daughters Leanna and Tanya. Though Vijay is always known to live a flamboyant lifestyle, Rekha prefers to live a relatively personal life.
5/6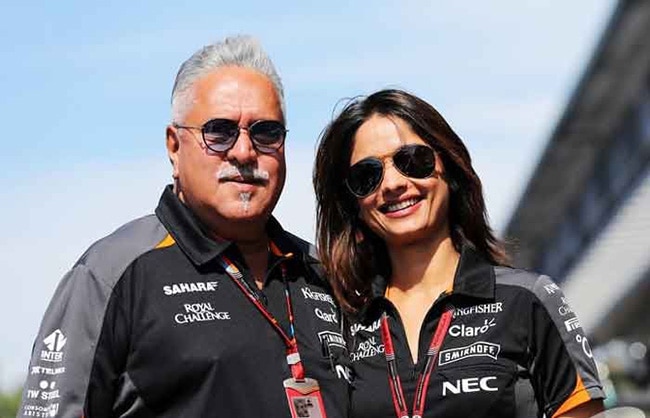 Image credit: Twitter
Vijay Mallya with his rumored girlfriend Pinky Lalwani
Pinky is a former Kingfisher Airlines employee and a companion of Vijay Mallya in his good as well as bad times. It is also said that the both had tied the knot secretly. Earlier Lalwani has been spotted several times with Mallya's mother and at parties hosted by Mallya.
6/6
Image credit: Twitter
Vijay Mallya and his alleged girlfriend Pinky Lalwani and son Siddharth Mallya
A few weeks ago, the two even celebrated their third anniversary together. Clearly, things are going strong and steady between them and now they are planning to tie the knot.