Maha Ashtami Wishes in Bengali and Hindi: Wish Durga Ashtami 2017 with Whatsapp Messages & Images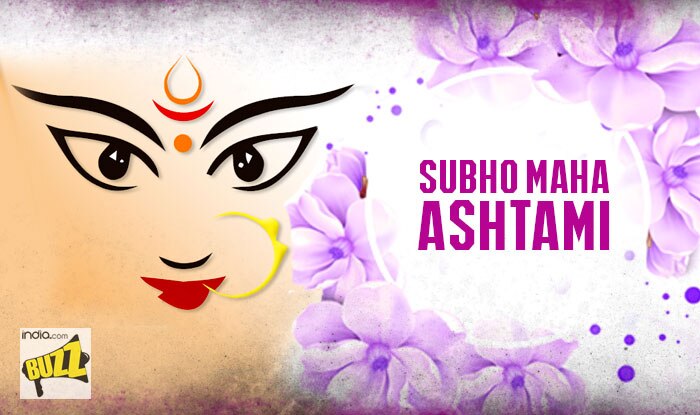 Durga Ashtami also called Maha Ashtami is one of the most important and auspicious days of the Durga Puja festival. The grand festival of Durga Puja begins on the sixth day of Navratri with Maha Ashtami being celebrated on September 28, 2017. Durga Puja is celebrated in the honour of Goddess Durga who ****ed buffalo demon Mahishasura to establish the victory of good over evil. It is a major festival, especially for the Bengalis. The 4-5 days are no less than a carnival in the state of West Bengal with devotees worshipping the divine form of Maa Shakti. Devotees greet each other with Subho Ashtami messages. In this article, we share a collection of Maha Ashtami wishes in Bengali and Hindi along with Durga Ashtami Messages, GIF Images, Quotes, Whatsapp and Facebook Status to send Subho Ashtami 2017 greetings. Navratri Colours 2017 For Each Date: List of all 9 Colours to Wear Every Day During Navaratri Festival to Please Goddess Durga.

The ten-day Durga Puja is celebrated during Sharad Navaratri. It is observed in the month of Ashvin as per the Hindu calendar, which according to the Gregorian calendar falls during September-October. Durga Puja on Maha Ashtami begins with Mahasnan and Shodashopachar Puja. According to Drik Panchang, Mahashtami Puja Time will be within the Ashtami tithi, which will begin on 7:10 pm on September 27, 2017, and will end on 9:25 pm on September 28, 2017. On this day, all the nine forms of the goddess Durga are worshipped, as per kamiyasindoor.com. The Ashta Nayikas worshiped during Durga Puja are Brahmani, Maheswari, Kaumari, Vaishnavi, Varahi, Narasinghi, Indrani and Chamunda. Durga Puja 2017 Calendar: Date & Time of Durga Ashtami, Maha Navami and Vijayadashami with Puja Mahurat.

According to the Hindu mythology, it is believed that the Goddess Kali appeared on Durga Ashtami from the forehead of Mother Durga and annihilated Chanda, Munda, and Rakthabija (the demons who were associates of Mahishasura). Sandhi Puja is celebrated on Maha Ashtami. It is believed that Devi Chamunda appeared at this time when Ashtami tithi ends and Navami tithi starts to **** the abovementioned demons. Navratri 2017 Day 8: Worship Maa Mahagauri, the Eighth Form of Goddess Durga.



WhatsApp Message reads: Ashirwad bado ka, pyar dosto ka duaen sabki, karuna Maa Ki Durga Puja ki hardik shubhkamnaey. Happy Durga Ashtami


WhatsApp Message reads: Maa Durga Ke Aashirwad Se Aapke Man Ki Har Muraad Poori Ho. Shubh Mahanavami. Happy Durga Ashtami.


Whatsapp Message reads: Ambe hai tu jagdambe kali, Jay durge khappar wali! Teri hi gun gawe bharati, Woh maiya hum sab utare teri aarati! Charan saran mein khande tumhari, Le puja ke thali! Bas haat sar par rakh do, Maa sankat harne wali!


WhatsApp Message reads: Aapka chehre per muskan rhe itni Ke Khushiyon ki na rhe koi kami Meri taraf se aapko or aapke pariwar ko Mubarak ho Durga Ashtami.


Whatsapp Message reads: Jai Maa Durgaa, Maa aapki har monakamana puri karein. May all your problems solved of your life. Happy Durga Puja.


Akash Jure Jacche Ure Sada Megher Bhela. Bisorjoner Samoy Holo Furiye Elo Khela. Asche Bachor Pujor Dine Thakbo Kothai Ke-Je Jane, Jethai Thako Mayer Sathe Rekho Amai Nijer Mone! Subho Maha Ashtami!


Sarot-Er Akash, Roder Jhilik Sheuli Fuler Gandho. Ma Eseche Ghore Abar, Dorja Keno Bandho. Pujo Elo Tai To Abar Bajna Bajay Dhaki, Pujo Aste R Je Nei Ekta Din-O Baki! Suvo Durgotsab…!! We wish everyone celebrating Durga Puja, a very happy Maha Ashtami 2017.